Congresses
THE RIGHT PLACE FOR YOUR TRAINING, CONGRESS AND TEAMBUILDING IN CENTRAL SLOVAKIA
A modern congress centre in the heart of the Štiavnické vrchy mountains. Easy access directly from the motorway, beautiful nature and top-class facilities. We have a solution for every event. Four-star newly renovated hotel with large grounds, comfortable accommodation and professional approach.
CONGRESSES, CONFERENCES AND TRAININGS IN HOTEL SITNO
The congress premises of the Sitno Hotel as well as the hotel rooms are undergoing a complete reconstruction.
You can already book your event in the new congress halls with state-of-the-art presentation technology, sound system and equipment.
We offer you 5 fully equipped lounges with a capacity of 15 to 80 people with SmartWall writable walls and a data projector. Write freely on the wall directly into the projected presentation, simply wipe off, or continue on the adjacent wall! All rooms are air-conditioned and have the advantage of natural daylight with blackout options.
We also offer separate Wine, Coffee & Tea rooms for specific business meetings or training sessions, which are a nice change from the established lounges. There is a glazed Private room or a cosy separate Wine room.
The S1 Lounge connected to the Bowling Bar is perfect for an interactive coffebreak.
Hotel Sitno offers congress services in 12 fully equipped congress and training rooms. The dominant feature of the congress area is the glass hall with a view of the Štiavnické vrchy mountains with a capacity of up to 450 people.
A unique space for your training is also available a private Mediatro cinema room with a capacity of up to 25 seats with comfortable seating "as in the living room "and a state-of-the-art sound system.
---
KONGRESOVÉ CENTRUM
Kongresové centrum s najnovším technologickým vybavením a celkovou kapacitou 600 osôb. Viac miesta pre Vašich vystavovateľov a nové kongresové salóniky v bezprostrednej blízkosti sály.
Hall K1+K2
Possibility of connecting the congress rooms
450 persons/cinema seating
300 persons/school seating
250 persons/Banquet-seating
Hall K1
320 persons/cinema seating
200 persons/school seating
100 persons/U-seating
Hall K2
110 persons/cinema seating
80 persons/school seating
50 persons/U-seating
K3, K4, foyer
Larger and more comfortable space for coffeebreaks
Ideal space for your exhibitors or presenting partners
Optoma interactive monitors - with touch control
Sharing video and audio from the convention hall
Lounge K3 + K4
Possibility of connecting the congress lounges
90 persons/cinema seating
70 persons/school seating
34 persons/Geneva-seating
Lounge K3
70 persons/cinema seating
40 persons/school seating
26 persons/Geneva seating
Lounge K4
20 persons/cinema seating
16 persons/school seating
10 persons/Geneva seating
---
TRAINING FACILITIES
Our congress centre is a direct part of the hotel. The accommodation and congress area is practically separated to ensure sufficient privacy. We have a large congress hall, smaller training lounges and an unconventional and superior hotel cinema room.
Lounge S1
The modern look of the lounge with the possibility of connecting with the Bowling Bar can be used for an interactive coffeebreak but also for evening relaxation.
Capacity from 30 to 80 people.
Lounge S2 and S3
Technical equipment included in the price and the possibility of serving the coffeebreak directly in the training room.
Capacity S2 from 15 to 50 people.
S3 capacity from 10 to 30 persons.
---
FLOOR PLAN OF THE CONVENTION CENTRE
---
VIRTUAL TOUR
Take a 3D tour of our premises.
---
Congresses and room rentals
Martina Beňová
Senior sales manager
Lucia Beňová
Sales manager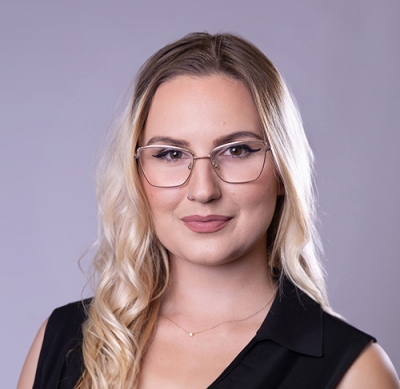 Alexandra Bartová
Sales manager